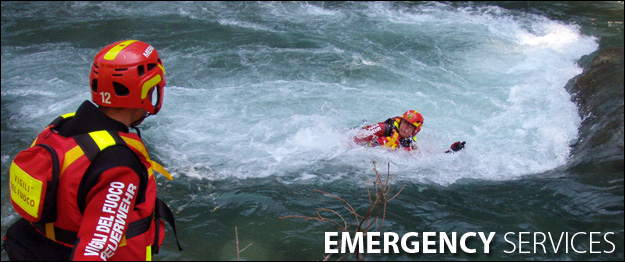 Swiftwater Training Program
In the USA the NFPA (National Fire Protection Association) has 3 levels of technical rescue:
Awareness Level - Minimum knowledge
Operations / Basic Level - First responder
Technician Level - Rescuer
Our training courses are built on this simple system, as it is flexible and can be modified for each and every group, regardless of size or training needs.
We offer 4 different course options which are especially interesting for rescue professionals:
Awareness Level Training
The awareness level course is a first step for people to learn the dangers of working around moving water. This is a one day classroom based course and is designed to instill a respect of the power of moving water in would be rescuers.
Swiftwater First Responder - Basic Level Training
This multi day course is designed to train students to operate around moving water. We aim to give students self rescue skills and the experience to be able to judge for themselves how serious different water features are.
Rescue skills are also taught on this course, with an emphases on simple, quick, low risk methods.
Swiftwater Rescue Technician - Unit 1
The original standard moving water rescue course since 1979. Often copied but never surpassed. This course is ideal for water and dive rescue teams that are required to work in moving water. The SRT course gives the rescuer not only the skills to say out of danger but trains techniques that enable them to rescue others in distress.
Swiftwater Rescue Technician Advanced
The SRT A starts where the SRT course leaves off. After reviewing core skills of the SRT program we start working in the river environment at night, including night searching exercises. As well as teaching technical vertical rescue.
Participants must have a current SRT Unit 1 certification and should be comfortable with all SRT skills as well as active abseiling.