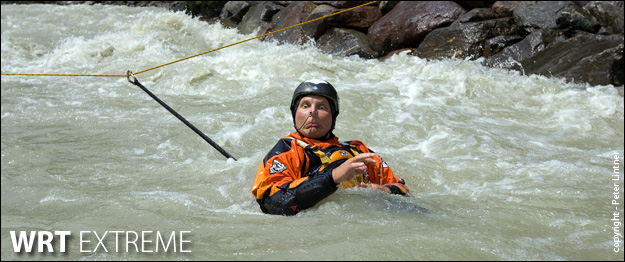 WRT Pro Course - For kayakers that often paddle on grade 4 and above whitewater, and want to improve their safety and rescue skills. We practice rescue skills in realistic scenarios to find out what works and what doesn't when time is against us.
Swiftwater Rescue training especially for river runners. The WRT has been developed for kayakers and professional river guides who don't want to learn all about how to rescue somebody with a motorboat or an inflatable fire hose. It is internationally recognized as the standard rescue certification the world over for river runners.
Kayakers who wish to attend this course should be solid grade 4 paddlers, who ideally already have attended a safety course.
Certified by Rescue 3 International.
Course duration: 3 Days
This 3 day course is mostly run over a long weekend, with 3 long days in order to get the most practice time out of a short course. A large part of the course is practical with one day spent paddling on a local grade 4 river with realistic scenarios along the way.
Minimum age 18
Course Aims:
We aim to improve every paddlers knowledge of the dangers inherent to the harder whitewater environment and how to avoid them. We also aim to improve self rescue knowledge of every paddler.
On harder whitewater group, rescue skills are more important as rescues can be much more demanding. We aim to see what the limits are for every group with the equipment that they have available.
"Kiss - Keep it safe, stupid! Keep your rescue skills up to scratch with the WRT Pro course. It's worth every penny."
Andy MacDonald - Nookie Team Xtreme & Perception Pro Team Paddler - River guide White Nile Uganda
WRT Course - Landeck Tirol
Personal Equipment required:
Buoyancy Aid / PFD / Lifejacket
Whitewater Helmet
Thermal protection - Wet suit / Dry suit
Suitable footwear - Wetsuit booties / Shoes and wetsuit socks
Whitewater Kayak - With all Airbags fitted
Paddle
Spraydeck
Personal rescue equipment - Knife, Karabiners, Throwbag etc.
Personal equipment hire is not included in the course fee. Personal Equipment (including kayaks, paddles etc. on kayak courses) can be hired from us for a small charge when booked in advance.