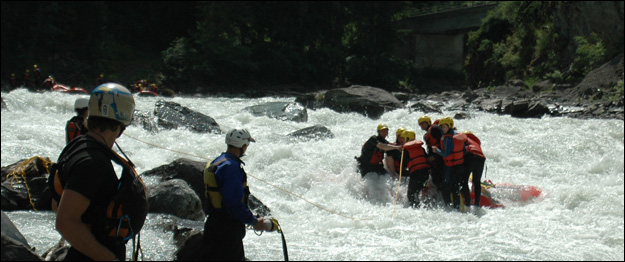 Advanced Swiftwater Rescue Course
The SRT A starts where the WRT course leaves off. After reviewing core river rescue skills we start working in the river environment at night, including night searching exercises. Technical rescues are also a continuing theme for on this course as we learn to rescue victims out of the vertical realms of steep sided river gorges.
Certified by Rescue 3 International to NFPA standards.
Course duration: 4 Days
Participants must have a current WRT or SRT certification and should be comfortable with all WRT skills, as well as active abseiling.

Sample Program to Download
Course Aims:
We aim to give rescuers a thorough knowledge of swiftwater rope rescue techniques along with self rescue skills in the vertical environment. We also aim to give rescuers a thorough training in the dangers and problems related with night operations around swiftwater rescues particularly with regard to search and rescue at night.
"Very interesting & worthwhile. I am now much more confident to participate in a technical rescue scenario!"
Jeff Hastings - International River Guide
SRT Advanced Course - Pfunds Tirol
Personal Equipment required:
Buoyancy Aid / PFD / Lifejacket
Whitewater Helmet
Thermal protection - Wet suit / Dry suit
Suitable footwear - Wetsuit booties / Shoes and wetsuit socks
Personal rescue equipment - Knife, Whistle, Karabiners, Throwbag
Waterproof headlamp
Climbing helmet
Climbing harness - Sit and chest / Full body
Personal equipment hire is not included in the course fee. Personal Equipment can be hired from us for a small charge when booked in advance.