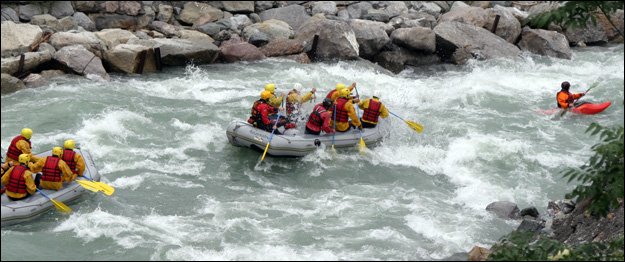 Tyrolean Rafting association - Guide School
In Austria to guide a raft, commercially or privately, bigger than 11' (for 4 or more people) you need a special raft guide's license.
We run the Tyrolean Rafting association Guides School every spring. This course runs over a 10 days and teaches all the information to pass the the IRF level 3 Guide exam. The course is aimed at people with no whitewater experience and is normally taught in German!
The IRF test is in two parts: Theory and Practical. Theory consists of a Multiple choise paper which take people about 20 minutes to answer.
The practical part is on the Imsterschlucht setion of the Inn (WW3), where you are tested on giving a correct safety talk, commands, making eddies, ferry gliding and the ability to re-flip a 16' raft in current, rope systems, rescuing swimmers with the raft & throwbag. If all goes well you then receive your IRF Level 3 certificartion allowing you to guide rafts for up to 12 people in Austria.
All the information can be downloaded from the Internet in English and German.
More information on the TRV Website...
More information from the IRF Website...