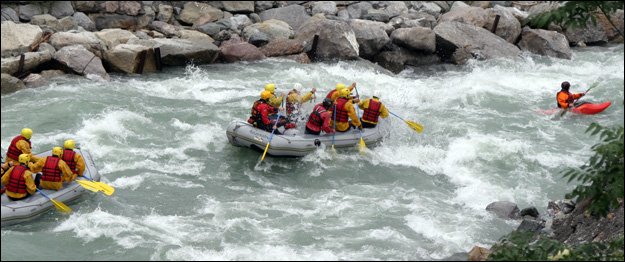 Tyrolean Rafting association - Guide School
In Austria to guide a raft, commercially or privately, bigger than 11' (for 4 or more people) you need a special Raft guide's license.
We run the Tyrolean Rafting association Guides School every spring. This course runs over a 10 days and teaches all the information to pass the the Austrian Guide exam. The course is aimed at people with no whitewater experience and is normally taught in German!
The Austrian Government has based the test on the normal driving exam over here. So in the morning there are two oral exams, covering shipping law and technical rafting questions.
Then in the afternoon everybody puts on the wetsuits and drives to the Imsterschlucht put-in where you are tested on giving a correct safety talk in German. On the water: commands, making eddies, ferry gliding and the ability to re-flip a 16' raft in current are tested as well as rescuing swimmers with the raft or throwbag. If all goes well you then receive your Schiffsführerpatent – Raft allowing you to guide rafts for up to 12 people in Austria.
All the information can be downloaded from the Internet and most of it has been translated into English for those people not speaking German as a first language.
More information on the TRV Website...
More information from the Tyrolean Government Website...