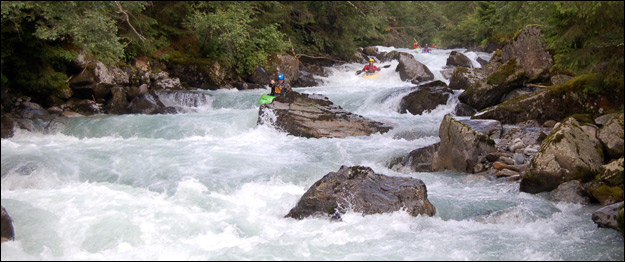 Whitewater Kayaking - Near miss Creek boating
Incident on the Upper Applegate river in Oregon where a boater was swept into a undercut area after running a drop. The kayaker doing safety is wearing a helmet camera and so you can view the whole rescue on vimeo. He ended up having to throw the rope to the swimmer three times. He knew that his fellow boater was not in a good place and unable to self rescue...
First here is a link to the video clip of the rescue:
VIDEO - Creeker Near Miss
There is also a write up from the kayaker doing safety here:
REPORT - Creeker near miss
This is only a small volume creek but it once again shows us how much more force there is in water sliding downhill than most people would expect. I think we would all agree that this is a pretty bad place to swim at, and that a swimmer is not going to be coming out of there by themselves. What also makes this a serious situation is that there is no great place for safety cover. The kayaker doing safety is standing in the best spot to throw from but is forced to pull the swimmer through the water that is moving the fastest (and so exerts the most force). Luckily he has his friends across the river to help him, unluckily they are not dressed or equipped for rescue, which definitely puts them at a higher risk, especially as the only way to get across the creek is for them to swim (no convenient bridge nearby).
Points we can all take away from this are:
Everybody misses a swimmer from time to time (especially if swimmers are caught in a hole) so learn to re-throw.
Be equipped to do safety when your friends are running hard whitewater, even if you think you are just taking pictures. In a serious rescue you will end up helping.
Just because there is someone with a throwbag on the bank, it doesn't make a fall safe to run.
If the only place to do safety is not the ideal place then see if you can move to someplace better after you have thrown, or extend an anchor point down to the river level for your chest harness or as a re-directional point to pull from beforehand.
Learn how to do a body belay like Reinhold Messner (and all other old school mountaineers used to belay). It's a better way to hold on to a rope for a long time and you can exert more force on the end of the rope using it.
Have a safe and fun summer on the creeks!