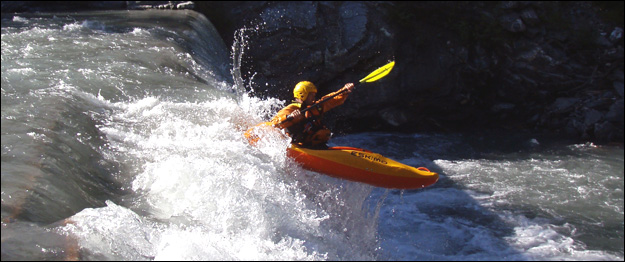 Stefan Lütz
Stefan is a SRT instructor, based in Germany. He is a member of the Eskimo pro team developing new kayak designs and then testing them on his favourite steep creeking runs. He has spent the last few years persuading life jacket manufactures to produce safer designs, which finally seems to be paying dividends. Stefan can always be found near a kayaking put in or take out.
Qualifications

Whitewater Experience

Instructor for Swiftwater Rescue Courses

Belgum - Rur, Hoegne, Salm, Hille, Warche etc...
Costa Rica - Paquare, General, Sussio etc...

Sportfluggerätesicherheitstechniker

Germany - Loisach, Rissbach, Schwarzbach etc...
Former Yugoslavian - Tara, Plivicer, Seen etc...

Paramedic - MHD Zivildienst

France - Travo, Ardeche, Tarn, Guil, Ubaye etc...
Greece - Evratas, Alfios, Arakthos, Aoos etc...

Outdoor First Aid Instructor

UK - Dee und Afon Tryweryn
Italy - Cannobino, Sesia, Sermenza, San Bernadino ...

Canoe- Kayak- SUP-Instructor

Luxenburg - Sauer, Our
Hollend - Jsselmeer, Nordsee

Sea kayak guide

Norwey - Driva, Grovu, Soja, Jori, Otta etc...
Austria - Inn, Sanna, Ötz, Venterache etc...

High Ropes Course Instructor

Poland - Oder and Ostsee
Schweden - Västerdalenälven, Klarälven, Silijan etc...

Rafting-Riverboard-Canyoning Guide

Switzerland - Inn, Verzasca, Moesa, Lutschine etc...
Slowenien - Soca, Koritnika, Sava Dolinka etc...

Kayaker since 1978

Spanien - Rio Gallego, San Miguel, Rio Esca etc...
Chech Republik - Vltava (Moldau), Lipno
Turkey - Euphrat and Tigris
USA - Potomac, Gooly, Upper yak etc...