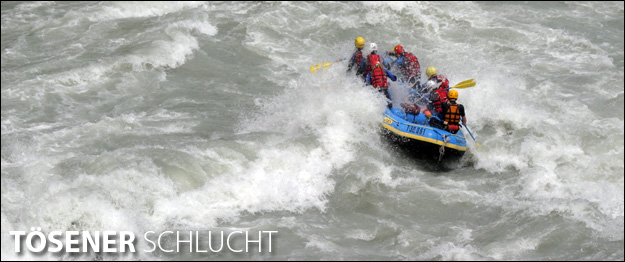 Our classic tour. The Inn is a large volume Alpine river, that winds through impressive mountains of Tirol. Between Pfunds and Prutz are two huge grade 4 rapids each a kilometer long to pass through. Towering waves form in the narrows of the gorge forcing us to manover the raft back and forth across the current to avoid any that may over turn the Raft. Big waves hit the raft from every side, making us glad that the boat is outfitted with footcups to help us stay in the boat and that we had time to practice safety drills before hand.
This tour is equally suited to experts as well as beginers. As well as great rapids the tour starts off nice and easy with just smaller rapids spaced out with mostly flat water where people can relax and get used to everything before the hard rapids. For a mixed group with some people who have rafted before and some who have not this is a good choice of river.
The Inn is mostly fed by snow melt so in the spring after the first hot weather it swells to almost double its normal size. Between May and July this high water causes lots of big waves to form in the main rapids. Later in the season the water levels slowly go back down which makes for a more relaxed trip, athough there are always big waves to crash through with the raft.
From the get out in Prutz we drive straight back to our base in Pfunds so that everyone can have a shower and then look at photos of the rafting.