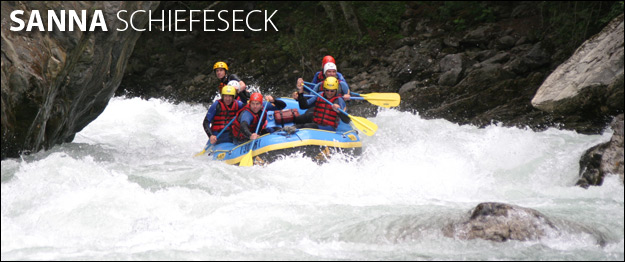 This tour is for rafters looking for a wild ride. The Sanna is a steep powerful river with lots of rapids, combining the best of a tight technical river with powerful big water. This makes for lots of excitement and a quick 9km run. It's so quick in fact that we aim to run it twice!
Suitable for experienced rafters only, the Sanna starts of with a bang and just keeps going. This river is much narrower than the Inn which means that the raft must be precisely guided between cliffs and boulders. Although also grade 4, the same as the Tösener Schlucht, the Sanna is much more continuous. When you are in the boat this makes it much more fun but if someone falls out then it can be a lot more serious. For this reason all guests on this trip must of already been rafting on the Tösens section beforehand so that they know what they are letting themselves in for.
The Sanna is also a snow melt river and so is best between May and July with lower water levels in August. If the river is too high to raft safely then we can raft on the Landecker section of the Inn which at high water is a great grade 4 run.