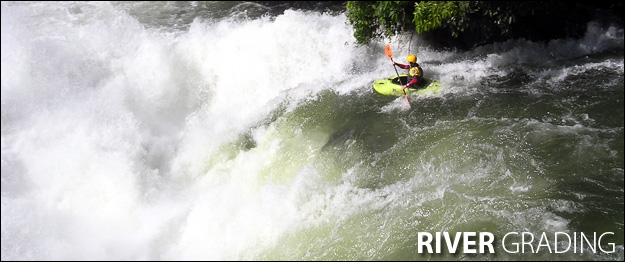 Grade I: Easy
Waves small; passages clear; no serious obstacles.
Grade II: Medium
Rapids of moderate difficulty with passages clear.
Grade III: Difficult
Waves numerous, high, irregular; rocks; eddies; rapids with passages clear though narrow, requiring expertise in maneuvering; scouting usually needed.
Grade IV: Very difficult
Long rapids; waves high, irregular; dangerous rocks; boiling eddies; best passages difficult to scout; scouting mandatory first time; powerful and precise maneuvering required.
Grade V: Extremely difficult
Exceedingly difficult, long and violent rapids, following each other almost without interruption; riverbed extremely obstructed; big drops; violent current; very steep gradient; close study essential but often difficult. All possible precautions must be taken.
Grade VI: Normally Unrunable
The consequences of errors are very severe and rescue may be impossible. For teams of experts only, at favorable water levels, after close personal inspection and taking all precautions.