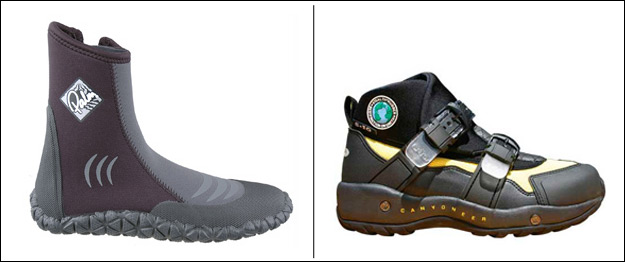 Footwear
If you have to walk about on the bank then you want some footwear with a good grip. Most wetsuit booties are not that bad on dry rocks but as soon as the rock is wet or slimy you will be slipping and sliding. They are however very good for swimming in.
At the moment two companies offer sticky shoes for the river with special rubber soles: 5.10 and Teva. They cost a lot of money, don't last very long and you will still slip sometimes! However as I know people who have damaged themselves badly by slipping on the bank, I pay the money for the shoes as it's still cheaper than the hospital bill. For rescue or rafting you need a stable shoe with good tread and some ankle support. For kayaking something more low profile is needed to squeeze in your playboat. The bigger the boots the worse they are for swimming but the better they are on the bank.
Some people boat barefoot as they can't fit into their boat with shoes on. Maybe they should just think about buying a bigger boat! If you swim kayaking, being barefoot hurts lots and if your friend swims and you have to get out and run down the bank it hurts even more. God forbid having to walk out through the woods (or jungle) any distance without footwear!
Most of the time in Europe the water is cold enough that we want more protection than just the shoe, so size your shoes with a neoprene sock when you buy them. For roastie toastie feet get a pair of NRS Expedition socks. The 5mm plush neoprene makes these the warmest we've tested.