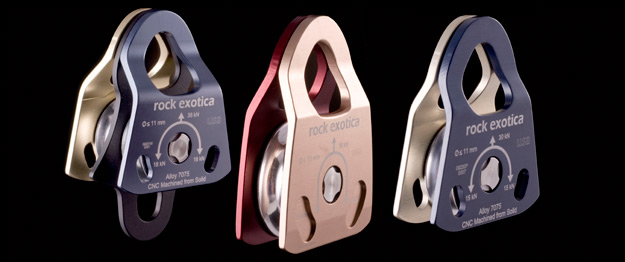 Pulleys
On our rescue courses we supply all pulleys. However if you have your own already, and would like to use them, then you can bring them with you.
Pulleys are only important if a boat gets wrapped or if you need to set up a zip or high line Tyrolean. Trying to use Karabiners instead of pulleys doesn't work very well. Due to friction a 3:1 system will only really produce a 2:1 advantage in the real world without pulleys. Not all pulleys are the same however. Such factors as the size of the main wheel, quality / type of bearings used and whether it needs to be used with a specific type of karabiner all come into play.
For this reason we recommend some of Edelrid's and Rock Exotica's pulleys. For kayaking and rafting a small pulley is often enough. The Edelrid Turn is a well made small pulley with a high breaking strain. The Mini Machined pulley from Rock Exotica is very lightweight, has high quality bearings and has the added advantage of being prussic minding. For rescue or expedition rafting the Rock Exotica Machined Rescue pulley takes a higher main load, has a larger wheel and also high quality bearings.
If you need to pass knots in the rope the only option, although it's a big boy, is the Kootenay Pulley. This can also be locked off and used as a high strength tie off at your anchor point.