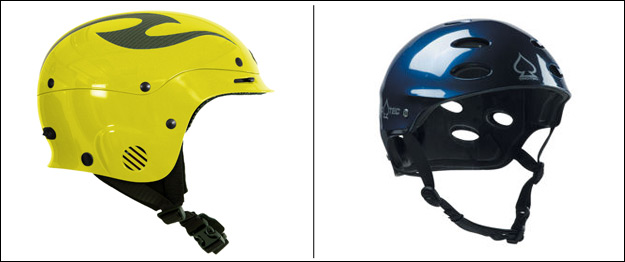 Helmet
As your brain is your most important rescue tool it makes sense to try and protect it as much as possible. A whitewater helmet is designed to protect you from impacts of you against a rock. Climbing helmets on the other hand are made primarily to protect against a rock falling onto your head from height. Whitewater helmets therefore should protect as much of your head as possible especially the back and sides, the same as a skateboard or skiing helmet.
In whitewater the helmet tends to be pushed around a lot more and the strapping system has to be good to prevent the helmet riding back and exposing you forehead to rocks. This is where "full cut" Helmets have an advantage over the "half cut" designs which, although look much cooler, tend to move much more. A good helmet should protect you and be lightweight. Bolting a big steel cage to the front of your helmet does not in our view make it better. If you get in the habit of tucking forward whenever you capsize kayaking you can avoid exposing your face to those nasty rocks.
For rescue situations in an environment where rock fall is the biggest danger and the lightly hood of entering the water is low, a climbing helmet is much better protection than a whitewater helmet if you have a choice. They also have nice clips for your headlamp if you have to be working at night.