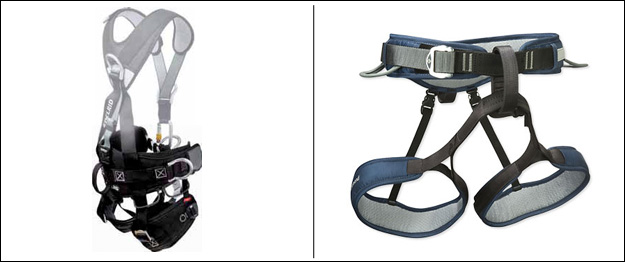 Harnesses
A sit harness combined with a chest harness or full body harness is needed to work in the vertical world and also for some advanced swiftwater rescue situations.
There are many different makes of climbing harness on the market and all have to conform to EN 358, EN 361 or EN 813 to be sold in Europe. Some are more comfortable than others due to more paddling, however if you are wearing a wetsuit then it doesn't make so much difference. A Harness with adjustable leg loops is much easier to size over your other PPE.
For vertical rescues where the rescuer will be free hanging it is necessary for both the rescuer and victim have either a full body harness or a sit harness combined with a chest harness (this can be improvised with a sling).
Large padded harnesses are much more comfortable to hang in for a longer period of time but are almost impossible to swim in. Lightweight "alpine" harnesses are light and easier to swim in but are not so good to be suspended in for any length of time. Special canyoning harnesses are available which protect the seat of the wetsuit against rocks as well as caving harnesses that make for the most efficient accent of ropes due to there very low attachment point.