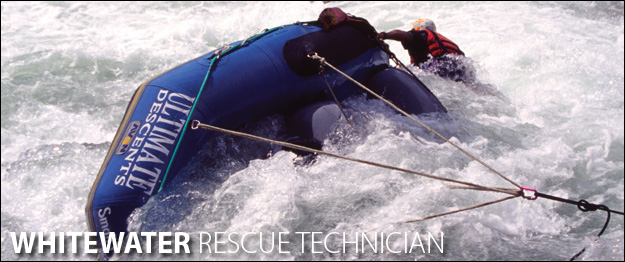 WRT PRO: This course is suitable for all whitewater riverguides and paddlers. In three days you will learn about safety on the river. How to prevent accidents occurring and what to do in the event of one happening. As well as how to use the equipment that you have available effectively.
This course is internationally recognized on a parr with Rescue 3's SRT course as the standard rescue certification the world over for river runners.
Certified by Rescue 3 International.
Course duration: 3 Days
This 3 day course has a half day of theory and the rest of the time we are outside either on the river bank or on the water learning and improving our practical skills. We concentrate first on core paddler safety. Things that every paddler can do to ensure that they are safer on the river. This is followed by self rescue skills, and finally by group rescue skills.

Sample Program to Download
Course Aims:
We aim to improve every paddlers knowledge of the dangers inherent to the whitewater environment and how to avoid them. We also aim to improve self rescue skills of every paddler and give them the experience to be able to judge for themselves how serious a rapid is.
Group rescue skills are also on the program, with simple, quick, low tech methods being taught first.
"Just watching swiftwater rescue DVD's is not enough - to experience dangerous situations in a "controlled" manner is vital and to practice rescue too."
Timea Ziegler - Hungarian Kayaker
WRT Course - Pfunds Tirol
Personal Equipment required:
Buoyancy Aid / PFD / Lifejacket
Whitewater Helmet
Thermal protection - Wet suit / Dry suit
Suitable footwear - Wetsuit booties / Shoes and wetsuit socks
Personal rescue equipment if available - Knife, Karabiners, Throwbag etc.
Kayakers may also bring their boats to use on the course
Personal equipment hire is not included in the course fee.
Rescue equipment such as: Throwbag, Karabiners, Pulleys, Slings etc. are available from us to test and are also available to buy in our shop.
Personal Equipment (including kayaks, paddles etc. on kayak courses) can be hired from us for a small charge when booked in advance.